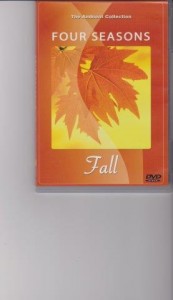 The absolutely perfect expression of my favorite season. Can be watched anytime you want to conjure up images of fall or have fall in your living space. A true 122 minute labour of love by Tony Helsloot, which has a basic fall film with lighting effects, forest scenes with birdsong, falling leaves, and babbling brooks, more rugged landscapes with rivers, rain, and waterfalls. Sublimely majestic with 2 extras of soothing scenes and natural decorations. No music.
Fantastic for those who can't get enough of fall, for who want to be totally immersed in fall (even at home), and for writers and artists seeking inspiration and visual info. A remarkable relaxing resource for those seeking inner peace, re-centering, or reconnection with Nature.
There are other DVDs by the same cinematographer/author including other seasons, oceanside scenes, and Buddha-inspired garden spaces. Amazon.ca features a pleasurable range which can be accessed by 'Tony Helsloot nature'  search.