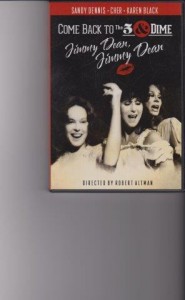 (Olive Films/Paramount DVD with interesting interview with the original playwright who comments on the rough road to stage and then screen)
This is a successful Broadway play filmed on a movie-stage by Robert Altman in one of his comebacks. The themes of this movie include real change and adaptation vs. preferred non-changing self-narrative, the psychological excesses of fan worship, clinging to preferred fantasy and self-images, church 'morality' vs. modern 'sin', the importance of acceptance of uniqueness and differences, and gender confusion.
The plot concerns the 20th reunion on Dean's death date of a small Texas James Dean chapter consisting of several women and one man. All members show up and old lying and self-deluding conflicts are played against truth and reality. In many ways, this timeless movie echoes the games, lies, intensity, and masks of Edward Albee's Who's Afraid of Virginia Woolf.
The cinematography and dual use of a reflecting/transparent store mirror mixes past and present with transitions which may, initially, be confusing, but actually provide perspective and show the relevance of the club's past on their present hang-ups, conflicts, and changes. The music, consisting of old fifties girl-songs, serves as an ironic counterpoint to many scenes and moments.
Director Altman has made one of the best, strongest, most realistic women's pictures of any time; the problems and issues of the various women are all common and believable. In many ways, Cher is the featured funny, crude-mouthed character who hides secrets much like the other main characters. Sandy Dennis is sufficiently flaky as Mo who, in many ways, resembles the prudish Juanita, an older bible-thumping woman who manages the store.
Stealing the show with a extremely edgy, risky, but amazingly believable performance is Karen Black who plays Joanne, in an uncanny dual role that ties the painful past to the equally painful present.
(Spoiler: Mo's son, Jimmy Dean, who never appears, is one of the key mysteries at the heart of this script.) Indeed, the invisible men–including the real James Dean, the adolescent 'Jimmy Dean', Sissy's ex-husband, Joe the only fan club boy member, and Juanita's dead alcoholic husband–are as fully characterized as the women characters onstage.
Come to the 5 and Dime is an entertaining, powerful, intriguing, cleverly put-together film adaptation of the stage play. This is simply one of Altman's best and easily one of the top ten films of 1982. A strong women's movie with lots of psychological conflict and dead-on terrific acting. Highly recommended.
ps/ Look for a younger Kathy Bates as an effectively foul-mouthed, obnoxious returning member who provides some comic relief along with Sissy.