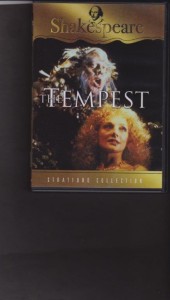 The Tempest is a magical romance, and a late play clearly written by Shakespeare based on its poetry, quotables, imagery, and motifs–unlike the dubious Cymbeline, Pericles, and The Winter's Tale (see review that follows) commonly attributed to Shakespeare, which don't reveal any of the above familiar qualities of The Bard.
I would highly recommend Stratford Festival's 1982 production of this play which was originally televised by CBC. John Hirsch's direction and Len Cariou's Prospero are both masterful. The casting and acting are uniformly excellent and engaging. The sets and costumes (Caliban and Ariel's, in particular) are miraculous. Each scene is about as perfect as one can imagine.
Despite this being a filmed live production, it does not seem stiff. The audience's laughter is miked to give one a strong sense of how jokes and scenes went over. The CBC Home Video also punctuates the production with trumpeters and scenes outside the theatre as well as occasional, unintrusive shots of audience members and instances of actors talking to the camera. If anything, these make one feel that one is also there in the audience. I was impressed overall by this illusion which echoes Prospero's various lines to the audience. If you are a fan of the play and want to revisit the play when you wish, you couldn't do better than this memorable, powerful version.
ps/ Watch for a small cameo by Loreena McKennit and a super performance of the drunk Stephano by Nicholas Pennell, of the original BBC Forsyte Saga.