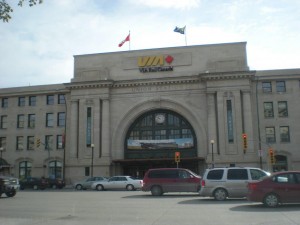 (Union Station–built 1912,one of the few grand buildings left standing in Wpg.)
Like a pot of dry geraniums
in a North-End wartime window,
you cling to life though
your halcyon days are done.
Oh Winnipeg, your history is dead now.
Who remembers the Strike, the Blizzard, floods?
Who remembers your Indian Jack,
Gisele MacKenzie, Lenny Breau?
White with birdlime.
old banks and empty warehouses
stand silent in a row,
awaiting another fin de siècle boom.
Arcades and pawnshops
infect your once-proud avenues
where kings and queens passed flags
waved by caucasian throngs.
Like transit-riders stranded                                                                                                  at 3 am, Riel and Golden Boy                                                                                         ponder Assiniboine waters,                                                                                     wondering why Hull ever left.
Nothing else remains
but second-hand stores on William
selling spurs, quilts and memories
that no one really needs.
…………………
Notes:
pot of geraniums–allusion to John Marlyn's 1957 novel Under the Ribs of Death, about a Hungarian-Canadian's struggle for survival in Winnipeg's North-End during the Depression
Strike–the famous General labor strike in the summer of 1919
Blizzard–which paralyzed Wpg Mar. 4, 1966; nothing was running and the city shut down
floods–especially the 1950 Red River Flood which flooded parts of the city
Indian Jack–Indian Jack Jacobs, a popular quarterback-punter for the Wpg Blue Bombers, 1950-52
Gisele MacKenzie–popular Wpg. singer who had her own American tv shows in the '50s and '60s
Lenny Breau–legendary jazz guitarist, considered to be the all-time best by many fans; mysteriously killed in L.A. in 1984
Riel–Metis hero; a sculpture-monument facing the Assiniboine River near the legislature is dedicated to him
Golden Boy–famous statue on top of the legislature, signifying prosperity
Hull–aka the Golden Jet, first superstar of the Wpg Jets, who signed the 1st million dollar contract in professional hockey, playing from 1972-79
William–William Avenue, seedy once-popular street running to Main Street
(previously printed here Jan. 6, 2015)