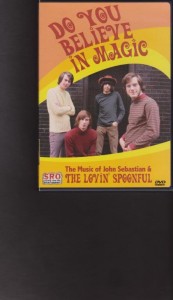 (recommended for Spoonful fans is this SRO DVD hosted by John Sebastian; for the novice, the best CD for their music would be The Very Best of the Lovin' Spoonful: Music Collection International)
………………………………………….
The Lovin' Spoonful, that is, a group from Greenwich Village who seized the moment to transition from folk to popular music racking up 24 good-time music singles:
Summer in the City
Daydream
Do You Believe in Magic?
You Didn't Have to Be So Nice
Jug Band Music
Did You Ever Have to Make up Your Mind?
Younger Girl
Rain on the Roof
Darling Be Home Soon
Six O' Clock
She Is Still a Mystery
Nashville Cats
She's a Lady and others.
Sure there was an explosion of good and great music of the time, but these guys created some very unique songs and sounds (including a jackhammer in "Summer in the City") that really caught the fancy of music lovers of the day. That and lead singer John Sebastian's lead vocals and autoharp. He was the most notable member, later coming back with the theme to the Welcome Back, Kotter tv show of the mid-seventies.
Trivia: Significantly and to neat effect, in 1966's UK masterpiece Blow-Up, director Michelangelo Antonioni used their music in the background but redone by someone else.