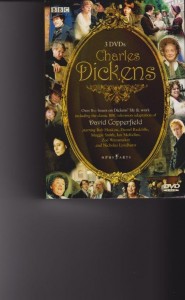 This is a remarkably strong production of Dickens' autobiographical classic which reminds one of many things about life.
1. The relevance of his child labor and child abuse topics go on today in Third World and Western countries alike.
2. Dickens' view that people can be incredibly evil, cruel, mean, nasty, and bitter, as in the cases of Uriah Heep, Mr. Murdstone, and Creakle. is likewise timeless. Also, timeless are his naïve, innocent, good, or decent characters: David's mother, Aunt Betsey, Peggotty, Barkis, and David himself.
3. Dickens also shows how one can be mistaken by first impressions as in the case of David's perceptions of Steerforth and Dora.
4. Ultimately, Dickens reveals life process through his main character with all his various setbacks, challenges, learnings, failures, and successes.
5. He equally shows that life is something that happens to one and that one can be an agent, sometimes unwittingly or unintentionally, in the lives of others.
6. Dickens equates happiness more with relationships than with work and career, though the latter may prove to be therapeutic and potentially fulfilling.
The script, sets, costumes, music, cinematography, and direction are uniformly flawless, faithful to the original novel, and effective. The acting features strong performances by Daniel Radcliffe, Bob Hoskins, Maggie Smith, Ian McKellen, Zoe Wanamaker, Trevor Eve, Ciaran McMenamin, and Nicholas Lyndhurst.
Highly recommended for its perspectives on life, Victorian times, coming-of-age theme, and realistic assortment of characters.
…………………..
There are 2 more videos in the set:an interesting biography of Dickens using actual places from Dickens' life hosted by his biographer Peter Ackroyd, and a performance of A Christmas Carol by Anton Lesser as Dickens.