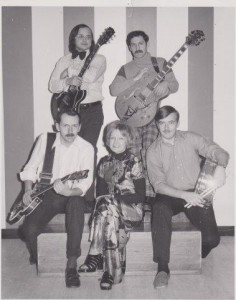 (We played for thousands. I was the leader, male singer, and rhythm guitarist. The other guys from the base had to keep their hair short for their jobs. I was the hippie maverick schoolteacher from 'town'–Grand Centre.)
It all came back sitting there in the big barn listening to Mavericks' dance music, people jumping up spontaneously to dance. My band Betty Plus Four of CFB Cold Lake played these kinds of large country barns, air-force hangers and clubs. The main difference was there was no smoking in RC's venue, though I got my retro smoke quota being routed thru the casino. A very transporting experience, the smell of beer, drunks acting cute, women wanting to shake their booty on the dance floor. Yeah, a lot of mem'ries.
The audience digging up money for an extra set or two long after the band figured it had played its last set. Keeping the dance floor filled with one song segueing into the next. Yeah, it could have gone on (and did without me) after I returned to Edmonton, taking an offered hard-to-get job with ESPB. Hey, it took me all that summer and fall to 'dry out' what with so many people buying us drinks; we used to order drinks every break and during set-up and take-down anyway. I could easily have become an alcoholic, but was definitely on the road to a music career, writing my own songs and having a band to perform them a la Neil Diamond's Live at the Troubador.
It was all within reach. A true crossroads and climax. But I chose family and career over continuing with what was a very good, fun thing, entertaining hundreds of people a night, and being in control of a good band and each song spontaneously played. Yeah, it all came back Saturday. The leader-songwriter Raul Malo being admired and appreciated, etc. by the big crowd certainly resounded with me.
I missed the regular band initially, but in retrospect, I still don't regret the big choice I made. Other, equally exciting opportunities came up including comedic entertaining, teaching from my own textbooks, writing full-time, happy successful kids, two Fringe plays, a rare film classification job, wild teacher bands, book, music and movie collecting, gardening, travel, blogging, and enough of a nest egg for the remaining years and continuing freedom and self-directed choices.