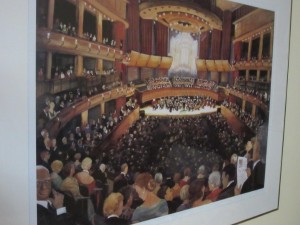 (new acquisition at Symphony under the Sky–ESO @ Winspear print by Toti Lewis, now in family room; attended so many great concerts at Winspear over the years)
Last day, Sunday:
Loved the pipers and "Scotland the Brave'.
Annie Dugan of Firefly Theatre and Circus wowed the crowd with her mind-bending hula hoop maneuvers.
The Metis Child and Family Jiggers are the best native Canadian dance group performers I've ever seen with strong lead violin reels by Calvin Vollrath.
Vinok Worlddance did two powerful renderings of Bulgarian and Romanian culture.
The Lightfoot medley was beautifully played.
15-year-old Michael Nunes`Ègyptian Reverie`was simply the best and most integrated composition I`ve ever heard in years of hearing ESO`s young composers`works. Written when he was in grade 10 no less! What a promising future!
The 1812 last night was a wonderfully different take sans real cannons but with equally shocking explosions and fireworks to boot. What a knockout end to one of the best festivals ever!