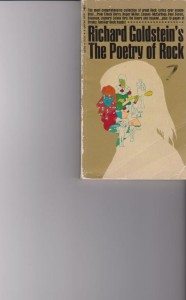 was Richard Goldstein's 1969 anthology, the first ever done of 1950-1960s rop/rock song lyrics.
Table of Contents above. Many inspired choices including:
"In My Life"–Beatles
"Elusive Butterfly"–Bob Lind
"Sad-Eyed Lady of the Lowlands"–Bob Dylan
"Suzanne"–Leonard Cohen
"Desolation Row"–Bob Dylan
"Dress Rehearsal Rag"–Leonard Cohen
"Subterranean Homesick Blues"–Bob Dylan
"Crucifixion"–Phil Ochs (the most neglected and forgotten of the great 60's folk writers)
"The Sound of Silence"–Simon & Garfunkle
"Horse Latitudes"–The Doors
These are all lyrics I would have typed up and mimeographed on class handouts that year.
Notes: Already in 1969, Dylan had established himself as The One whom everyone idolized and respected for his writing and imagery. Still active in live performances and recordings these days, Dylan remains The King of Twentieth Century Song Lyrics as well as The Supreme Poet of Folk and Folk-Rock.
On a personal note, I remember doing a winter, 1968 concert mostly of his material at a Silver Heights, Wpg. church with my folk trio which my school friends still remember. Later in 1978, I would do a concert of Dylan's tunes at McNally High School in Edmonton with three students: a girl singer, a bass player, and a drummer, me on rhythm guitar.(see previous entry above)