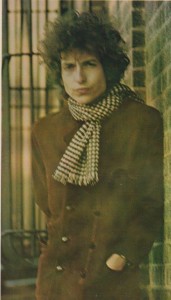 (Dylan in his 1966-67 Blonde on Blonde prime)
Quote any 10 memorable poetic lines by Atwood, Walcott, any other poet of the past 6 decades..
Quote any 10 memorable lines of Dylan. (Some of these can be recited in full song form.)
(BTW/ Rudyard Kipling, who was another rhymester, won a Nobel in 1907: "In consideration of the power of observation, originality of imagination, virility of ideas and remarkable talent for narration which characterize the creation of this world-famous author." Hmmm, sounds like Dylan and his work, even to the point that Dylan has written many story songs.)
Some examples of poetry in Dylan's work:
"You said you'd never compromise
With the mystery tramp, but now you realize
He's not selling any alibis
As you stare into the vacuum of his eyes
And ask him do you want to make a deal?"
"Inside the museums, Infinity goes up on trial
Voices echo this is what salvation must be like after a while"
"Mona tried to tell me
to stay away from the train line
She said that all the railroad men
Just drink up your blood like wine
And I said, oh, I didn't know that,
But then again, there's only one I've met
And he just smoked my eyelids
And punched my cigarette"
"The drunken politician leaps
Upon the street where mothers weep
And the saviors who are fast asleep
They wait for you,
And I wait for them to interrupt
Me drinkin' from my broken cup,
And as me to open up
The gate for you"
"With your sheet metal memory of Cannery Row
And your magazine husband who one day just had to go
And your gentleness now which you just can't help but show
Oh who among them do you think would employ you?
Now you stand with your thief, you're on his parole
With your holy medallion which your fingertips fold
and your saint-like face and your ghost-like soul
Oh who among them do you think could destroy you?"
"She wears an Egyptian ring
That sparkles before she speaks
She's a hypnotist collector
You are a walking antique"
"The cloak and dagger dangles
Madams light the candles
In ceremonies of the horseman
Even the pawn must hold a grudge
Statues made of matchsticks
Crumble into one another
My love winks, she does not bother
She knows too much to argue or to judge"
Other Dylan songs which are pure poetry (sans music) with quotable lines:
All Along the Watchtower
Ballad of a Thin Man
Blowin' in the Wind (anthem of a generation)
Chimes of Freedom
Dear Landlord
Desolation Row
Don't Think Twice, It's All Right
Forever Young
Girl from the North Country (sung with Johnny Cash)
Gotta Serve Somebody
A Hard Rain's A-Gonna Fall
Highway 61 Revisited
Hurricane
I Don't Believe You
I Dreamed I Saw St. Augustine
I Pity the Poor Immigrant
I Shall Be Released
I Want You
I'll Be Your Baby Tonight
Idiot Wind
If Dogs Run Free (jazz recitation)
If Not for You
It Ain't Me Babe
It's All over Now, Baby Blue
It's Alright, Ma (I'm only Bleeding)
Just Like a Woman
Just like Tom Thumb's Blues
Lay Lady Lay
Like a Rolling Stone
The Lonesome Death of Hattie Carroll
Love Minus Zero/No Limit
Man Gave Names to All the Animals
Masters of War
Mr. Tambourine Man
My Back Pages
One Too Many Mornings
Positively 4th Street
Sad-Eyed Lady of the Lowlands
She Belongs to Me
Simple Twist of Fate
Slow Train Comin'
Stuck Inside of Mobile with the Memphis Blues Again
Subterranean Homesick Blues
Tangled up in Blue
Tears of Rage
This Wheel's on Fire
Time Passes Slowly
The Times They Are-A-Changin'
To Ramona
Tombstone Blues
Tonight I'll Be Staying Here with You
Visions of Johanna
When the Ship Comes In
When You Gonna Wake Up?
With God on our Side
You Ain't Goin' Nowhere
(later added, of his songs up to 2001: Ballad in Plain D, Black Diamond Bay, Bob Dylan's Dream, Bob Dylan's 115th Dream, Gates of Eden, Isis, Joey, Jokerman, Lay Down Your Weary Tune, Lily Rosemary and the Jack of Hearts, Long Ago Far Away, Man of Peace, Only a Pawn in Their Game, Romance in Durango, Sign on the Window, Three Angels (recitation), Tomorrow Is a Long Time.
His work has had a huge impact on our generation and subsequent listeners, and abroad (Beatles were huge fans). He continues to put these song-poems and a zillion others out there (still touring and recording).
I can't think of another poet (and that goes for Thomas, Auden, et al) with as huge a catalogue. And I do think his use of rhyme is amazing and has made him very popular and quotable. That he has been commercially successful seems to be a non-starter as an argument; rather it suggests how influential he's been. That he's not a woman or non-caucasian–the politically correct stuff–is another non-starter. He's beyond them, beyond very good, beyond very prolific, beyond very poetic; his work's great: period. I think he's the greatest songwriter of the 20th century. He has done way more with lyrics than Cole Porter, Irving Berlin, Woody Guthrie or any songwriter you'd care to nominate.