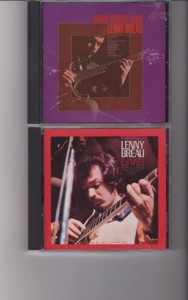 (top: 1st album; "Lenny keeps it short"; concise beautiful playing of standards; bottom: Lenny breaks out–pretty much what he sounded like at his best back then, live)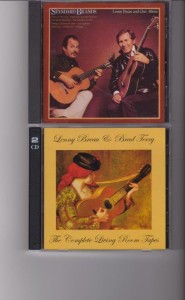 (top: a rare album; Chet and Lenny play mostly country, acoustic; "Lenny's dream come true" playing with one of his influences Chet, a father-figure; bottom: amazing breakout album with clarinetist  Brad Terry)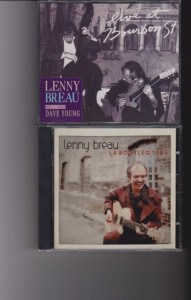 (top: playing with T.O. buddy Dave Young, himself a legendary acoustic bassist; bottom: the most recent CD bootleg release, recorded just before he was killed)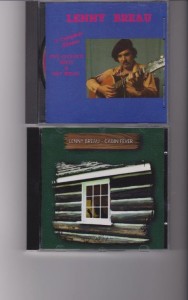 (top: Lenny solo; includes "Five O' Clock Bells'; bottom: Lenny solo, while 'drying out' in a friend's cabin)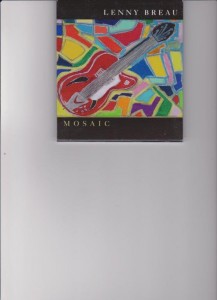 (this is one of many other good albums; be sure to catch Lenny's time with the legendary Don Francks as a member of Three and his album with another major influence–Tal Farlow)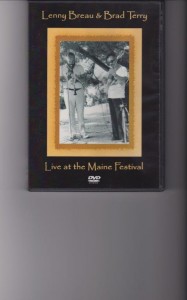 (you get to see what it was like to play live with Brad, improvising in front of an audience; an awesome fusion)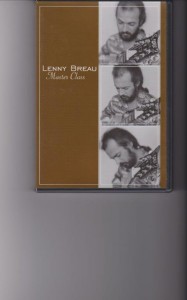 (a rare document of Lenny demonstrating his style and approach; thanks Randy Bachman, one of Lenny's biggest fans and students of guitar, for this one)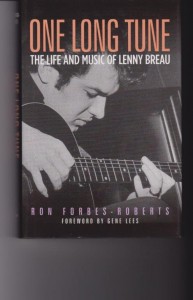 (the best book on Lenny; there is another one–many photos–which has been done by his Winnipeg family which is also recommended)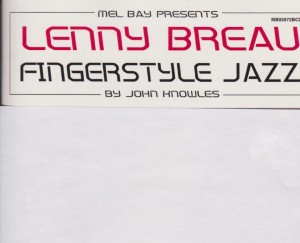 (if you are a jazz guitar player, this is a must–gives you more insight tnto "how Lenny did it")
If someone is sincerely interested in jazz guitarists and who was the greatest, there is only one name: Lenny Breau. Lenny is/was very familiar to me and anyone who grew up listening to music in 1960s-70s Winnipeg. He was The Main Man. Guitarists everywhere were amazed when they heard him for the first time for many reasons, starting with his ability to play transcendent jazz on electric 6 & 12, Spanish guitar, and his own invention–the 7 string (There were never enough notes for Lenny to play that he had to add the 7th string). He also picked bass, chorded, and played lead/melody at the same time effortlessly.
Lenny's career began as a child prodigy, playing in his parents' (Hal Lone Pine and Betty Cody) travelling country band. He then quickly came of age in his home base of Winnipeg, learning from the jazz greats and quickly initiating his own unique style. He then formed a trio–a pattern which he would repeat over the years with different musicians along with periodic duos. If you ever heard him play solo, you would still be mesmerized, so powerful was his playing.
Lenny eventually signed with Chet Atkins for his first two albums and the legend was established on vinyl and posterity; many albums followed. but always it was sublime to hear him play in person. He played with many stars including Anne Murray, but, like so many jazz musicians, he got mixed up and lost in drugs–something that dashed any hopes of a major, successful, long-term career. Finally he was found murdered in an L.A. swimming pool and his song was ended tragically.
I used to see Lenny on CBC tv, then at the U of W, and memorably one night at The Marigold restaurant, when the minimum drinking age was 21, with my underage musical friends Danny Casavant (worked with Randy Bachman) , Glenn Hall (now a T.O. jazz fixture), and Ian Gardiner (bassist for Burton Cummings–Ian and Glenn backed me in my own 1968-69 folk trio ). We thought we'd got away with one after we ordered drinks, and until the manager asked for IDs, sadly having to leave while Lenny was playing. Well, it had been worth the risk and trouble just to see Lenny play for a bit from up close at a front table.
Years later, I helped Emily Hughes, his Edmonton daughter, write the proposal that got her the famous Bravo documentary about her Dad. It was an honour to do that much to help her get the long-overdue documentary that her Dad so richly deserved. Today I still have a number of rare items including the documentary, a copy of the CBC special (about Lenny's first trip to Nashville to work with Chet on the first two albums), and a CBC radio documentary on Lenny's life and career with Ross Porter.
Anyway, I am steeped in Lenny lore, and even wrote an elegy to/for him about his tragic death, shown below. Ironically, I wrote it the August day he was killed, while with my family, visiting in Winnipeg. It alludes to his best, moving, intimate vocal "Five O'clock Bells" and "My Funny Valentine", one of his favorite signature tunes.
Lament for Lenny
Can't sleep–
long thin cloud
over Winnipeg
this morning
Lenny's dead
no five o'clock bells
or aficionados
weeping in the streets
just wind-rippled puddles
cathedral silence
& funeral-like cars
backed up for work
on Portage Avenue
Soft flamenco strum
make a balm
of warm pure notes
for Lenny's soul today
Tell God to be kind
to funny valentine men