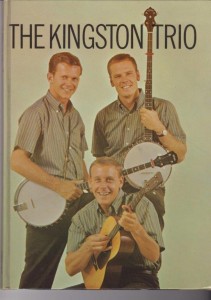 Note: pictures from this point on are safe to click on. Once any one picture is clicked, all pictures below come up after refreshing the site.
(my rare signed Trio book which sold widely on newsstands in 1960 (Random House); "Tom Dooley" was the first folk hit on top 40 radio; the trio inspired me and a lot of older college types to try their hand at playing folk clubs and cafes; only Bob Shane–left, is still alive from the original trio)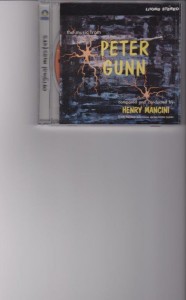 (Nobody had ever heard anything like it before–the album based on the tv show of the same name which made Henry Mancini world-famous; this remains the wildest, coolest jazz song ever played on pop radio; this highly recommended LP is available on Buddha label)
-"John and Martha", Stan Freberg, 1951. My parents had the 78 rpm and I used to play it from age 2 on. A 428 Victor Street, Winnipeg memory–the first house we lived in. the voices were memorably haunting, ghost-like with eerie organ background.
-"Secret Love", Doris Day, 1954, from the movie Calamity Jane. My mother took me to the movie and I can still see Doris Day passionately singing this one. Who has not had a secret love at some time in their lives?
-"Mr. Sandman", The Chordettes, 1954. "Bum-bum-bum-bum…." A dreamy-like song which I first heard on another 78 of my folks. First girl group I was exposed to.
-"Sincerely", The McGuire Sisters, 1955. I still remember hearing this one on a cafe or restaurant jukebox playing in a corner replete with juke lights. So powerful Robert Altman used it in Come Back to the Five and Dime, Jimmy Dean, Jimmy Dean for a similar romantic affect.
-Elvis Presley's early hits, as performed on Ed Sullivan Show, Sept. 1957. As powerful as seeing The Beatles several years later on the same show. Cool Elvis 'blew rock open' swivelling his hips singing "Don't Be Cruel" and others. There was no doubt he was The King from that moment on.
-"Little Darlin'", The Diamonds, 1957. My first Canadian group. Loved the high and low voices. This one was a mock love song. My young teenage aunt who lived with us for a while had this one on a 78. She was nice enough to let me play her records which included the 4-song extended play 45s.
-"Wake Up Little Susie", The Everly Brothers, 1957. I was rockin' and boppin' to their early hits through the '50s. They were the first unique brothers act in rock and roll.
-"Tom Dooley", The Kingston Trio, 1958. The first hit of the Hootenany/Folk Music Era. Heard on my Dad's friend's stereo phonograph in 1959. First time I heard the Trio and stereo. the friend played this one and the next song on the list loud. It seemed like the group was right there in the living room with us.
-"Peter Gunn", Henry Mancini, the LP cut, 1959. Wow! My first exposure to spirited jazz. Again, this one was from an LP my Dad's friend had through a record club subscription. It was wild and strange and blew apart the quiet of a Sunday afternoon visit. Because we were poor, it took until 1965 to buy a stereo cabinet player. From early on, I appreciated the aesthetics of separate channels, woofers, and tweeters, and the different sounds coming from each side of the stereo.
-"The Battle of New Orleans", Johnny Horton, summer 1959, Ed Sullivan Show. "And they ran through the briars and they ran through the brambles". A pretty wild country song which was a monster hit across North America. Country music was so popular it was played on weekends on the top radio station in town CKY. I would hear it on Saturday mornings on a pocket transistor radio delivering The Winnipeg Tribune.
*I've always enjoyed story songs: "El Paso", "The Gambler", "American Pie" and half of the above list are stories.