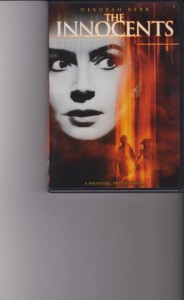 Based on Henry James' novella The Turn of the Screw (itself a haunting classic ghost story), The innocents is an effectively disturbing movie about a governess looking after two imaginative young children who may have become/been 'corrupted' by two adults on an estate who have died grotesquely before the governess (Deborah Kerr in a memorable role) arrived to look after them. Much of the viewer engagement with this film simply has to do with deciphering what is actually going on, what is real or not, and what the individual experiences are of the trio and the housekeeper. (There is also a somewhat subtle sado-masochistic subtext running through the past and present contexts to keep things interesting.)
Beautifully shot in black and white by Freddie Francis who also does a nice nightmare sequence, the film is set in Victorian times with a distinct Gothic flavor reminiscent of Robert Wise's equally disturbing The Haunting of Hill House (based on Shirley Jackson's novel of the same name. There are many powerful images such as spider crawling out of a statue, the sadistic Peter Quint's appearances, and the governess's appearances in the house and at the lake. Director Jack Clayton, likewise, makes several strong choices in which Nature and time stop and start again before and after crises. Kerr is sufficiently neurotic and overwrought as the governess who is convinced she knows what's really happening to the kids. Truman Capote's participation on the screenplay probably did not hurt either as he had an oddball fascination with children and childhood experiences.
The process of the movie plot, its unsettling atmosphere, and disturbing scenes come to a significant, effective conclusion when the governess, alone in the house, challenges little Miles as to the source of his odd mature and mean behaviors. I would suggest the meaning and understanding of the events essentially come down to two rather troubling ambiguous kisses near the end of the film.
Overall, I would, unhesitatingly, recommend the movie and original book for anyone who likes a good, old-fashioned ghost story with lots of mystery and psychology to keep viewers and readers talking for sometime after as to what they experienced.. Definitely a film classic for re-viewing and multiple ironic interpretations. More for the 15+ senior high to adult crowd who will have no shortage of things to discuss.
ps/See the nice, clean widescreen version by 20th Century Fox (pictured above)