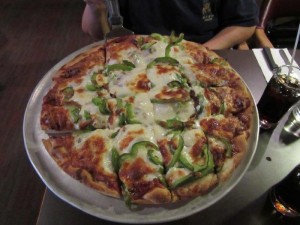 (#6 on the pizza list–there's no other pepperoni, mushrooms, and green peppers in town that can top Astro's version–their cheese is always deliciously thick)
Astro's Pizza, 10038-167 St. (just south of Stony Plain Rd. across from the old Centennial Mall).
A half-century old; I've been going there since 1971, when it was originally next to B & B Bowling downtown. These days, it is a tradition once a year to cross town to have lunch there and have one of their totally unique, yummy, loaded pizzas. A nice family business and a major fan base to boot. *I have never tasted another pizza as unique and remarkable as Astro's. Lunch, which starts at 11, is a good time to drop by.